News and events
News
7 August, 2013
Movement is consolidated for whale conservation in Latin America and the Caribbean

More than 70 organizations of the civil society from Latin America, the Caribbean and some of international scope, delivered a petition to members of the Buenos Aires Group (GBA), name adopted by the collective of Latin American commissioners to the International Whaling Commission (IWC). The petition was handed during the meeting held by the GBA in Uruguay between 5 and 8 July 2013, and summarizes the concern of the civil society regarding the challenges for conservation and non-lethal use of cetaceans within the frame of the IWC. Moreover, it requests the GBA to engage in specific actions on regional priority matters. Finally it highlights the need for an annual period Group Secretariat in order to coordinate the approach and agreements facing future International Whaling Commission.

Read the petition here.

8 de junio de 2012
En el Día de los Océanos: ONG Llaman a Sudáfrica a Reiterar su Compromiso con la Creación del Santuario de Ballenas del Atlántico Sur

En el Día de los Océanos, ACOREMA junto a 55 organizaciones no gubernamentales solicitaron a Sudáfrica, a través de una Carta a la Ministra de Relaciones Exteriores, sumarse como copatrocinante de la Propuesta del Santuario de Ballenas del Atlántico Sur.
10 de Mayo de 2012
Gobiernos de América Latina y el Caribe reafirmaron compromiso con la conservación de las ballenas

Representantes de gobiernos Latinoamericanos y del Caribe miembros de la Comisión Ballenera Internacional (CBI), integrantes del Grupo de Buenos Aires (GBA), se reunieron en la ciudad de Panamá entre el 3 y 4 de mayo, con el fin de coordinar acciones frente a la próxima asamblea anual de la Comisión Ballenera Internacional que se realizará entre el 2 y 6 de julio en Panamá. Como resultado de la reunión, los países del GBA emitieron un comunicado que destaca su compromiso con la conservación de las ballenas. Organizaciones de la sociedad civil de Latinoamérica y el Caribe hicieron llegar también al GBA su posición a través de una solicitud.

Lee la solicitud de las ONG al GBA aquí
Lee el comunicado del GBA aquí
10 de abril de 2012
Nota de prensa
ASUNTO: Llamado a la calma a la sociedad civil sobre el varamiento de delfines en las costas de Lambayeque y Piura

Habiendo seguido de cerca las recientes noticias sobre varamientos de gran número de delfines en el litoral de Lambayeque y Piura, queremos resaltar algunos puntos que requieren atención inmediata para evitar posibles situaciones de conflicto, especialmente, considerando que muchas de las noticias recientemente publicadas están basadas en observaciones y aseveraciones que aún no han sido rigurosamente corroboradas. Por ello, creemos conveniente solicitar a las poblaciones locales y gremios de pescadores en todo el litoral norte la calma necesaria en estos casos y quedar a la espera de la respuesta oficial del Gobierno sobre las posibles causas de estos varamientos.

Hemos observado que el número informado de delfines muertos ha ido aumentando en forma exponencial. Lamentablemente las causas aducidas por las informaciones aparecidas en diversos medios de comunicación son hipotéticas, ya que carecen de un sustento científico adecuado al no incluir un informe científico con evidencias verificables, basado en estudios de campo y de laboratorio más exhaustivos que permitan determinar la o las causas de estos eventos. El proceso es laborioso y toma algún tiempo, por ende la absoluta necesidad de subrayar la naturaleza no confirmada de las interpretaciones actuales.

Al mismo tiempo, como investigadores y como personas comprometidas con la conservación de los ecosistemas marino costeros, solicitamos que la información brindada por las organizaciones conservacionistas que han estado monitoreando in situ este evento sea objetiva en admitir un importante elemento especulativo, hasta que no presenten el informe profesional de rigor que contenga las evidencias necesarias para comprobar científicamente sus conclusiones. Esto evitaría que un tema tan delicado y técnicamente complejo sea politizado, causando además malestar en la sociedad civil.

Finalmente, invocamos a las autoridades del Gobierno (MINAM, MINEM, PRODUCE, IMARPE, Gobiernos Regionales), a que se tomen las medidas precautorias necesarias, de forma rápida y enérgica, para evitar futuros varamientos y/o cualquier otro desafortunado evento que perjudique la biodiversidad marina en el país.

Lima, 10 de abril 2012

Julio Reyes - ACOREMA
Joanna Alfaro / Jeffrey Mangel – ProDelphinus
Guillermo Castro – Blog Paralelo 4º Latitud Sur
Koen Van Waerebeek - CEPEC
25 October 2011
Latin America joined against Japan's "scientific" whaling in the Southern Ocean.
Press release

Sixty three civil organizations from Latin America, the Caribbean and other of international scope working in the region request their governments to adopt diplomatic actions facing the forthcoming Japan's "scientific" whaling season in the Southern Ocean.

25 October 2011. – Sixty three civil organizations from Latin America, the Caribbean and other of international scope working in the region joined to request their governments to adopt diplomatic measures against the announcements of the Japanese government to resume next December the so called "scientific" whaling in the Southern Ocean and to harden security measures for the fleet that will operate in Antarctic waters.


In a letter simultaneously delivered to representatives of 14 countries of the Buenos Aires Group, the civil organizations denounced the commercial nature of the so called "scientific" whaling, stating that "since the JARPA II program [of lethal research in Antarctica] began in 2006, the annual whaling quota increased to almost half of all whales taken under special permits per year, reaching levels that are similar to the commercial whaling annual quota for the Antarctic minke whale before the implementation of the moratorium".

"Apart from being a cover-up for commercial whaling operations thus violating the moratorium, the "scientific" whaling program conducted by the Japanese government in Antarctica represents a growing and alarming threat to the governance of the Southern Ocean, the security of human life at sea and protection of the sensitive Antarctic marine ecosystem" the letter pointed out.

The organizations alerted that "the challenging position of the government of Japan of sending a patrol ship to protect the whaling crew, seriously threatens the principles established by the Antarctic Treaty a zone of peace free of weapons. This situation is even worrisome because of the lack of transparency of the Japanese Government regarding the type of boat, defense personnel and instruments that would be used in the protection of the whaling fleet".

Regarding operations of the whaling fleet, the 63 representatives of the Latin American and Caribbean civil society stated that balance of the Antarctic ecosystem is threatened by whaling operations and reminded that "since August this year, measures… came into place, prohibiting the operation of heavy fuel ships in Antarctic waters"

The letter ended with the statement: "as civil society organizations committed to the conservation of the marine environment, the effective conservation of cetaceans, defense of all life forms and peace, we see with deep concern the reprehensible conduct of the government of Japan, which both inside and outside the scope of the meeting of the IWC continues to show its unwillingness to improve the functioning of this important international organization. Consequently, and knowing your commitment with the conservation and respects to norms and international cohabitation, we ask the Buenos Aires Group to urgently take diplomatic actions to reject the recent announcements made by the Japanese government and send a clear and strong sign of opposition to the slaughter of whales and the possible militarization of Antarctica".

The Buenos Aires Group was established in 2005 with the aim of strengthening a regional position, strongly committed with conservation and non-lethal use of cetaceans. At present, the Group includes representatives of Argentina, Brazil, Chile, Costa Rica, Ecuador, Guatemala, Mexico, Nicaragua, Panama, Peru, Dominican Republic, Uruguay and Venezuela.

See the complete letter here.
9 de Julio de 2011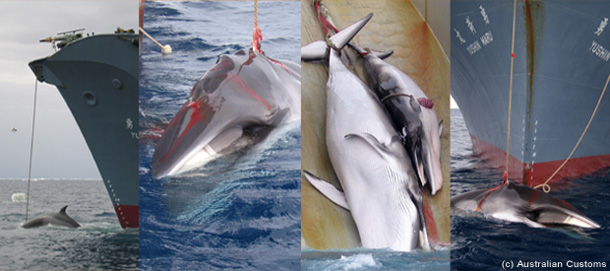 Latin American countries and Civil Society together for the whales

The 63rd Annual Meeting of the International Whaling Commission (IWC) will take place in Jersey (United Kingdom). Here, member states will take important decisions about the future of whales worldwide.

Since 2005 ACOREMA joined a coalition of Latin American and Caribbean organizations from the civil society linked to conservation and promotion of research and non-lethal use of cetaceans. Together with the countries of Argentina, Chile, Colombia, Costa Rica, Ecuador, Panama, Peru, Mexico, Dominican Republic and Uruguay (comprising a block named The Buenos Aires Group, or GBA), the Coalition is aimed to sustain a firm position favoring the worldwide moratorium on whaling and implementation of measures to improve the conservation status of these marine mammals. Last month, the Coalition released the "Declaración de las Organizaciones de la Sociedad Civil de América Latina al Grupo de Buenos Aires. 21 de junio 2001"; from the other side The Buenos Aires Group stated its position through the "Declaración emitida por los países participantes de la VIII Reunión del Grupo de Buenos Aires, Argentina frente a la 63 Reunión de la CBI". Besides these statements, there are several actions in which individuals and institutions can express their decision to support whale conservation. This is a crucial moment for whales. Your participation is vital. Join the Campaña Cero Caza de Ballenas (Zero Whaling Campaign). Sign now at www.cerocazadeballenas.cl

The Peruvian sea has a great diversity of cetaceans, comprised by 30 species, from which 9 species of large cetaceans are under IWC jurisdiction. This is the full list of cetaceans recorded in Peruvian waters.

More information in the section Campaigns
September 30, 2010
Fossil penguin found in the Paracas National Reserve. The discovery of a fossil giant penguin about 1.5 m high living in the Paracas area during the Eocene, some 36 million years ago is featured in the Science journal. The new species, named Inkayacu paracasensis was found by Alí Altamirano, member of ACOREMA collaborating at the Natural History Museum of the San Marcos University in Lima and described by a team of both national and international researchers. It is worth to note that this fossil bird preserved scales and feathers (something never found in fossil penguins). The inner structure of the feathers indicates that unlike the living species o penguins, Inkayacu was reddish–brown in color. Moreover, the exceptional preservation of these feathers allows the study of evolution in color from primitive penguins to the living species we know today.